Vinyl Composite Tile (VCT)
FM Cleaning offers full service VCT cleaning services.
Our trained technicians have the experience and the skill to bring your VCT tile flooring back to life.
Contact us for a free estimate
At FM Cleaning, we offer full-service VCT cleaning services, including tile stripping, waxing, and tile buffing. We understand that VCT tile flooring is a popular choice for commercial spaces because it's relatively inexpensive, low maintenance, and extremely durable. However, over time, it can become dull, stained, and scuffed. That's where we come in!
Our trained technicians have years of experience in stripping, cleaning, and buffing VCT floors for a variety of commercial spaces, including office buildings, restaurants, doctor's offices, schools, nursing homes, and retail stores. We have the experience and skill to bring VCT tile flooring back to life and maintain it to ensure it looks great for years to come.
To fully clean and restore VCT flooring, we begin by stripping away all of the previous layers of wax that have been applied over the years. This allows us to clean the flooring as deeply as possible. We then re-apply several new coats of sealer and wax that will protect and preserve the VCT flooring, bringing back a beautiful looking shine.
We understand that maintaining a clean and healthy environment is crucial for businesses. That's why our services are designed to meet the unique needs of each of our clients. We use state-of-the-art equipment and cleaning solutions to deep clean your VCT floors, removing any dirt, stains, or scuff marks that may have accumulated over time. Our services also include regular maintenance to help extend the life of your floors and keep them looking their best.
At FM Cleaning, we pride ourselves on our exceptional customer service, flexibility, and affordability. We work around your business's hours of operation, minimizing any disruption to your daily operations. Plus, our services are competitively priced, so you don't have to break the bank to keep your VCT floors looking their best.
In addition to our VCT cleaning services, we also offer a range of other cleaning services, including upholstery, carpets, tile and grout, and commercial janitorial services. Contact us today at (724) 479-0466 to learn more about how we can help you keep your business looking its best with our professional cleaning services.
We stand behind everything we do.
We helped write the book. Literally! Owner, Lee Zimmerman was the President of the Institute of Inspection, Cleaning and Restoration Certification (IICRC). He helped design the curriculum and standards of the industry that are recognized by the government today.
Vinyl Composit Tile
(VCT) Results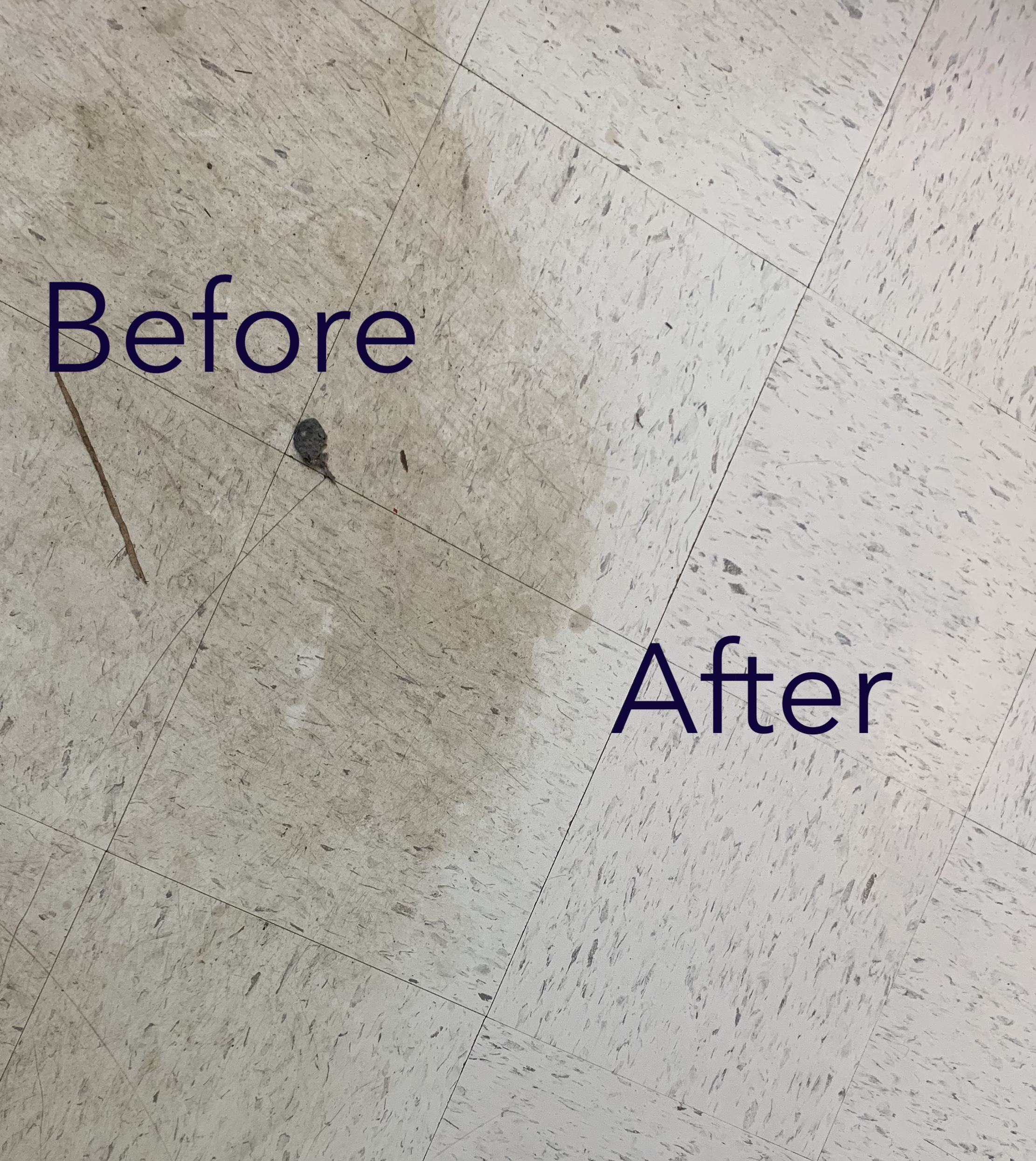 Physical Address:
45 Spring Road
Homer City, PA 15748
Mailing Address:
PO Box 13
Homer City, PA 15748